Friendly Blogger Award
Mar 3, 2009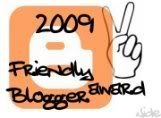 This is the Friendly Blogger Award and it was given to me by David Funk, who I've known for years from the Sporting News.
The following are the requirements for this award:
1. Take a Photo or install one now.
2. Do not change clothes, do not trim the hair, the main image is to be captured.
3. Post a picture that is in edit.
4. Post these instructions.
5. Tag 10 people for this award.
OK, here are the 10 bloggers I'm tagging for this award:
1. Football News from a Chick
2. A Frank Angle
3. 3rdStoneFromTheSun
4. The Couch Potato Chronicles
5. Nachos Grande
6. Karmic Boomerang 
7. Touchdown Dance
8. Novacek4ever
9. The Nutball Gazette
10. Mo's Marketplace